Personal care products, cosmetics, food, and other industries' preference for high-gloss, molded packaging has promoted packaging manufacturers to make beautiful products that compromise production and performance. Ampacet has developed proprietary high-density polyethylene (HDPE) and POP High Gloss Color, a combination of high-gloss masterbatch that enhances the inherent gloss of the resin and reduces other negative effects. Compared with other high-gloss alternative materials, this combination also has improved mechanical properties.

The POP color and resin combined gloss can be increased by more than 200% compared to the gloss of a typical conventional HDPE material. Ultimately, it can be made into opaque HDPE containers, often replacing those processed from PET materials, resulting in significant cost and processing advantages.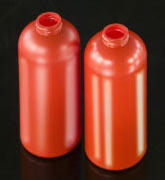 Figure 1: The combination of Ampace's new POP High Gloss Colors masterbatch and specialized high-density polyethylene resin

Doug Brownfield, Strategic Business Manager, said: "Packaging companies tend to make their plastic bottles and containers more attractive on retail shelves, tending to higher gloss products. Our POP coloring method gives them a higher level of performance with HDPE. Glossy options without sacrificing the performance and integrity of blown and injection molded PET packaging products."

"This importance is due to the fact that HDPE is cheaper than PET and requires less processing equipment. It does not have the problems involved in PET processing. POP colors also allow processing companies to increase the special effects that were difficult to obtain in the past, resulting in high gloss. HDPE packaging."

Compared to other products that enhance HDPE gloss, POP colorants can produce greater HDPE hardness and better melt strength. The improved mechanical strength can support high gloss HDPE materials for both single layer bottles and as top layer materials for multilayer bottles. Other high-gloss HDPE composites lack sufficient parison strength for single-layer bottles and can therefore only be used as outer layers. The use of POP colorants also avoids melt fractures or excessive parison dwell time, and helps to push compressive strength.

The low viscosity associated with HDPE containing POP colorants virtually eliminates demolding problems as well as many downstream processing issues, such as scratches and hanging during transport. HDPE containing POP colorants has a relatively high heat distortion temperature, so when the package is stored at a higher temperature, it is not easily deformed. POP colorants also meet the U.S. Food and Drug Administration guidelines for food contact.

The addition of POP colorants to the current HDPE molding process can be performed using both high speed and low speed extruders and other equipment. They include Ampacet's SmartColor processing technology, which makes cleaning easier during color changes. For POP colorants, the emergence of SmartColor technology has reduced downtime, optimized production and improved product quality.

Ampacet company background

Ampacet Corporation is a global leader in the color masterbatch industry, offering a wide range of custom colors, special effects, black, white, and specialty additive masterbatches that can be used in extrusion, molding, and many other processes and applications. Founded in 1937, the company now has more than 1,500 employees and revenues in excess of $650 million. Ampacet is headquartered in Tarrytown, New York. The company's technology and color development centers and manufacturing facilities are located throughout the United States, Asia, and Europe.

Reproduced from: specialchem

Table of intent, refers exclusively for the table to eat with. Material can be divided into wood tables, wood tables, marble dining table, marble dining table, marble coffee table, dining table jade, jade dining table, jade coffee table, marble dining table.





Round table

Roundtable if the living room, dining room furniture is square or rectangular, round table diameter increments from 150mm. In most small and medium housing, as with a diameter of 1200mm table, too often too large, it can be customized a diameter of 1140mm the round table, the same can sit 8-9 people, but it looks more spacious space. If the diameter of 900mm above table, although people can sit, but too much should not be placed fixed chair. As the diameter of 1200mm table, put 8 chairs, very crowded. 4-6 can put chairs. In people for a long time, and then folding chairs, folding chairs in storage compartment collection.





Rectangular table

760mmx760mm square table square table and rectangular tables 1070mmx760mm is a common table size. If the chair can be inserted into Zhuodi, even a small corner, you can put a six-seater dining table, dinner, only the need to pull out some of the table on it. 760mm width is standard size table, at least not less than 700mm, otherwise, due to the table when sitting too narrow feet touch each other. Table legs preferably shrink in the middle, if four legs arranged in the four corners, very inconvenient. Table height is generally 710mm, with 415mm seat height. Be lower desktop, when dining, food on the table can be seen more clearly.

Marble Dining Tables, Plywood Dining Table, Modern Dining Table and Chairs, Tables and Chairs for Restaurants
Taizhou Pinsum Furniture Co.,Ltd , http://www.pinsumchina.com