purpose

Waters ACQUITY UPC2 â"¢ system was used to demonstrate the rapid chiral separation of benzyl mandelate and the enantiomeric excess determination at 0.02% impurity content.

background

According to a September 2005 issue of "Chemical and Engineering News", 9 of the top 10 pharmaceuticals by sales contained chiral active ingredients, and 5 of them contained a single enantiomeric active ingredient. A single enantiomer chiral drug is considered to be an improved chemical entity, which can provide higher efficacy, better pharmacological data and more favorable adverse reaction data. For manufacturers of mono-enantiomer drugs, the undesired stereoisomers should be equivalent to other organic impurities. The International Harmonization Council for Registration of Pharmaceuticals for Human Use (ICH) has made clear provisions on the regulatory requirements for the identification, quantification and control of impurities in pharmaceutical substances and their preparations. According to ICH requirements, the threshold for identification and quantification of organic impurities is 0.1% of the main compounds.

The high detection sensitivity of the ACQUITY UPC2 system enables the identification and quantification of enantiomer impurities in pharmaceutical substances.

solution

The benzyl mandelate shown in Figure 1 is an important intermediate for drug synthesis. The racemic mixture of R- and S-benzyl mandelate (the concentration of each enantiomer in methanol is 0.20 mg / mL) was separated using UltraPerformance Convergence Chromatography â"¢ (UPC2 â"¢). The chromatogram is shown in the figure 2 shows. The main experimental parameters are listed in Table 1. The total analysis time is less than 1.5 minutes. The average peak width is less than 6 seconds. The ratio of R- and S-benzyl mandelate based on the peak area is 0.997.



As shown in Table 2, it is the reproducibility data of the retention time and peak area of ​​5 consecutive injections. At a concentration of 0.20 mg / mL, the reproducible RSD value of retention time is better than 0.23% and the reproducible RSD value of peak area is better than 0.5%.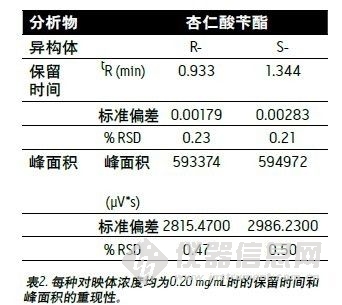 Figure 3 shows the UPC2 chromatogram of R-benzyl mandelate at a concentration of 2 mg / mL. Confirmed by UV spectroscopy (results not shown), the small peak at 1.30 min corresponds to benzyl mandelic acid. The signal-to-noise ratio of the impurity peak of S-benzyl mandelate is about 3 (detection limit), which is equivalent to 0.02% of the main peak calculated from the peak area. The increase in detection sensitivity is due to the overall design of the ACQUITY UPC2 system, which includes an improved pump system and an optimized detector design. In this example, the enantiomeric excess (ee) value was 99.96%.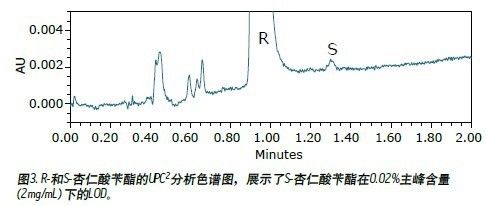 to sum up

Using the ACQUITY UPC2 system, the UPC2 chiral separation of R- and S-benzyl mandelate was successfully completed in less than 1.5 minutes. Under the condition that each enantiomer concentration is 0.20 mg / mL, excellent reproducibility can be obtained (reproducibility of retention time RSD is better than 0.23%, peak area RSD is better than 0.5%). The optimized design of the new pump system and detector brings higher detection sensitivity, making it possible to determine 0.02% enantiomeric impurities and enantiomeric excess. The AQUITY UPC2 system is suitable for the analysis of trace enantiomeric impurities, enantiomeric excess determination and QA / QC analysis.

Product categories of Coffee Tools, we are specialized sellers for Barista Tools, Cordless Coffee Maker, Coffee Distribution Tool, sells high-quality products of Coffee Tools. ARC USA, focuses on kitchen supplies, gives you the best product experience, the best product service. Don't wait! Just buy it now!

Coffee Tools

Barista Tools,Coffee Distribution Tool,Cordless Coffee Maker,Coffee Grinder Brush

ARC Advanced Royal Champion , https://www.arcimportcorp.com